STRATUS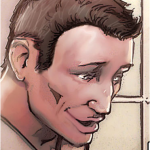 Real Name:  Ryan Sebastian Mach
Alias: Stratus
Place of Birth: Las Angeles, CA.
NEXIS Classification: Type-P (Passionate).
Physical Stats: 5'9, 185 lbs.
Enhancement: Able to fly at speeds up to Mach 6.
Mach is the Team Leader for AOE Strike Team 4 out of Dallas, TX working in tandem with Dark Mirror.  The AOE provided Mach a wind turbine powered suit that generates a field as he flies.  The field protects him as he flies at upper-tier speeds.  Prior to working with the AOE, Mach was the lead guitarist of a rock band called "Pushin' 35" whose 1st album (called "We Broke Peace") went double platinum within the first month of sales.  As a member of the AOE, he brings his rock star persona with him and still adored by fans of his former band.