The Interned: Eidolons in "The Prophecy"
An Eidolons Short Film
Brought to You by:
Director- Ken Baker Jr.
Producer- Christopher Regner
Exec Producer- Sani McPherson
Screen play- Christopher Regner
Story- Christopher Regner & Sani McPherson
Comic Book- Sani McPherson & David Velar-Gaskill
Cast
James Walker/ "Schism"/ Johnny Demonicus- Sani McPherson
Fredrick Foit/ "Hustle"- AJ Allen
Kristin Kresswell/"Brace"- Kristin Kuykendall Riggleman
Joy Smyth/ "Fluke"- Jordyn Simpson
Stan- Duane Fox
Manager- Gary Brunner
Jake Fellows/ "Mallet"- Joe Fecko
Jennifer Wade/ "Spite"- Sandy Fecko Philipp
Agent Crittenden/"Fearsome"- David VeLar Gaskill
Agent Oliver/"Tirade"- Dale Brown
Contributions
Here is a "high-five" to the organizations that have been assisting us with the film project, which has required a lot physically, mentally and financially. This list is by no means complete. If there is anyone that I've left out, please let me know.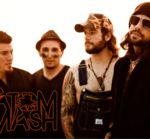 Atom Smash. . .not only are they great musicians, but they're a great group of guys who really interact with their fans. If you haven't had the chance to see these cats in concert, you need to– they come correct. Check these guys out at http://www.atomsmashmusic.com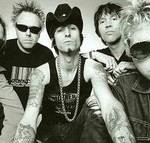 I've been a loyal fan of Sponge since the 90's and they're still rocking hard. Sponge brings a lot of power and their live shows are amazing. I had the honor of "getting plowed" with them in Hamtramck, MI. It was hands down the sweetest pub crawl that I've ever partaken in. Go to www.spongetheband.com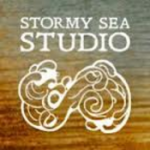 Graphic Designer Melissa Morris of Stormy Sea Studio is assisting with a sweet movie prop and I can not wait to see it on display. She is very thorough and professional. I would recommend her to anyone looking for assistance in this arena. For more details go here stormyseastudio.com
I'd be remiss if I didn't mention Voice Over Actor and SAG member, AJ Allen. Hands down the greatest VO actor to ever live on this great green earth. Am I biased? Sure. . .but that's my job. Seriously, he's a super talented individual who can adapt to any environment. I'm am grateful for his assistance in the formation of Team Demonicus and as a lead actor in the short film. If you want to use his talents, you can go here www.paradigmagency.com/divisions/voiceover/clientroster?category or www.ajvoice.com
Karen of Carbon Impressions Creamation Art is another multi-talented individual who will be assisting with a killer prop for the film. She does everything from Graphic Design to designing clothing. She might make you a jet pack if you ask her politely (hey, that's the next thing on my wish list). Check her out at www.facebook.com/carbonimpressions.cremationart
What's with all of these Florida bands?! Our buddy Scottie is the drummer for the Orlando rock band, Megaphone. I love these guys. . .this is what I call feel good rock. You'll be singing their songs all day. It's like Butch Walker and Seven Mary Three had a child who wanted to melt your face 24-7. For more on these guys go here http://megaphonemusic.net/
Patrick Potochick & Rebel Stunts assisted us with our 2nd Unit Action Directing for our film. These guys have a lot of experience. They were nothing but professional and helpful during our pre-production phase. Ultimately, they made us look cooler than we actually are and I can't really fault them for that. For more about Patrick Potochick & Rebel Stunts go here www.rebelstunts.com/
Deadset Revolt (formerly Chaos Rains) is a metal band from my hometown. I saw these guys at a battle of the bands at a bar across the way from my parents house. They come with it. I can't believe music this hard comes out of my neighborhood. If you're in the moshing mood, then give these guys a listen. Their song "Nursing the Pain" will be featured in the short film. Check Terry and his boys out at www.facebook.com/chaosrainsofficial
A band called pain is just sick! If soul grunge was a genre, I'm sure they'd be the pioneers. I really hope that these guys stick around for years to come! For more on ABCP go here www.facebook.com/pages/A-Band-Called-Pain/32711750896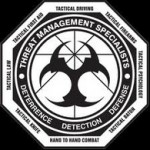 The gentlemen from the Threat Management Center in Detroit will be playing the role of Strike Team 2 in the short film. This is another organization that is going to make us look a lot cooler than we actually are. I'm really glad that we only have to face off against these guys in the film. I'm not trying to mess with them in real life. Though their focus is threat deterrence, they're trained for a multitude of threat situations. Take a look at their website and watch the intro video. I promise you'll enjoy it! http://www.threatmanagementcenter.com/
Kristin Rogers is a professional makeup artist who will be working makeup and makeup FX for the gang for the film. She will be bringing in a lot of experience and I can't wait to see how sweet she's going to make us look. You can view Kristin's work and stay updated on her latest projects by liking her on Facebook at www.facebook.com/Kristin.MUA
You may also follow Kristin on Twitter @makeupbykristin
The most intimate venue in Ferndale, MI. Music, pool, Michigan beer, booze and more. The loving touch will be supporting us for the final shooting. We definitely want to thank them for their support. If you haven't been here– GO! Visit them on the web at
https://www.facebook.com/lovingtouchferndale
Kings of the Air (K.O.T.A.) is an awesome band out of Austin, TX. Their lead singer, Rob Marcotte, is a friend, co-worker, and fellow veteran. I'm truly grateful for the opportunity to have seen them live and be able to use the song "Victory Over Death" in the short film. For more on Kings of the Air, go to https://www.facebook.com/kingsoftheair
Also see Rob's solo project Acadian https://www.facebook.com/acadianmusic